EDPI Calculator is an essential tool for gamers to optimize their gameplay experience. It is a free online tool that helps players to calculate the effective DPI (EDPI) for games.
CHECK List of Our EDPI Calculators
Effective DPI is a crucial factor in the game for determining their mouse sensitivity and overall performance. So to enhance gaming performance, this factor has the most significant importance.
To provide you with specific details about this perspective, an article elaborated next will cover most of your mind queries regarding dpi calculator rust and destiny. The content will discuss EDPI Calculator, its importance, and how to use it effectively to improvise the gaming experience.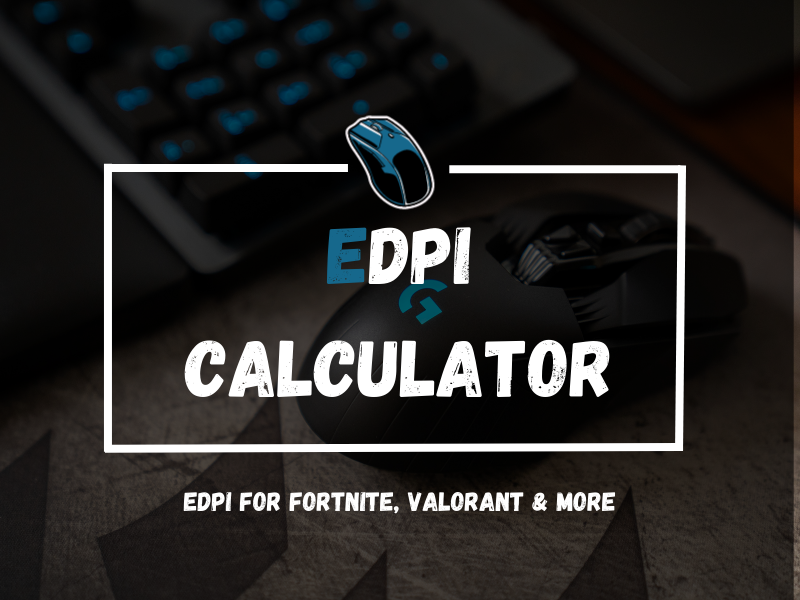 What is EDPI?
Effective DPI is a measure of the sensitivity of a gamer's mouse. It has a specialized calculation formula that the player should be familiar with.
It is calculated by multiplying the mouse's DPI by the in-game sensitivity. DPI is referred to as dots per inch. It helps determine the distance the mouse moves on the screen for each inch of movement on the mouse pad. This measurement is crucial for gamers to have consistent and accurate activities in the game.
The formula for calculating EDPI is as follows:
The two most important terms used in dpi calculator apex are explained next;
DPI stands for dots per inch and measures the sensitivity of a computer mouse or other pointing device. It refers to the number of dots or pixels the mouse sensor can detect in one inch of movement. A higher DPI means that the mouse can see more precise movements and minor position changes.
Moreover, DPI is not the same as in-game sensitivity, which controls how far the player's view or aim moves on the screen in response to the physical movement of the mouse.
However, DPI can be an essential factor in determining the optimal in-game sensitivity, as it affects the amount of physical movement required to achieve a certain amount of activity on the screen.
Higher DPI settings can be helpful for tasks requiring more precision, such as graphic design or photo editing. However, the optimal DPI setting for gaming can vary depending on the player's preference and playstyle. Some players prefer a higher DPI for faster and more precise movements, while others prefer a lower DPI for more deliberate and controlled movements.
In-game sensitivity is typically referred to as a numeric value in the game's settings, which controls how far the player's view or aim moves on the screen in response to a certain amount of physical movement of the mouse.
Moreover, this value can vary between games and be adjusted to suit a player's preference or play style.
Experts in the gaming community often refer to in-game sensitivity using a standardized system, which involves assigning a specific number to represent the movement required for the player's view to rotate 360 degrees.
This system is known as "360 distance" or "360 sensitivity," It helps players compare their sensitivity settings across different games or platforms.
For reference, a player might say that their 360 distance is 30 centimeters, meaning they need to move their mouse 30 centimeters horizontally to complete a full rotation of their view in the game.
This system allows players to more easily compare their sensitivity settings and maintain consistency across different games, which can be important for developing muscle memory and improving accuracy in gameplay.
What is an EDPI Calculator?
EDPI Calculator is an online tool that helps gamers calculate their EDPI accurately. It is a simple and easy-to-use tool that requires only the user's mouse DPI and in-game sensitivity values to calculate their EDPI.
EDPI Calculator takes the input values and calculates the CPI based on the above-mentioned formula. It also provides a recommended EDPI range based on the user's input values, which can help gamers adjust their settings to optimize their gameplay experience.
How Does it Work?
EDPI Calculator uses a simple formula to calculate the effective DPI for gamers. The user inputs their mouse DPI and in-game sensitivity values, and the tool calculates the EDPI. As has been stated in the general overview also, the formula used by EDPI Calculator is as follows:
EDPI = Mouse DPI x In-game Sensitivity
There are various variants of the EDPI Calculator. Some of them are;
A CS: GO, eDPI calculator, is a tool played by players of the first-person shooter game Counter-Strike: Global Offensive to determine their effective DPI (eDPI). Several CS: GO and eDPI calculators are available online and work similarly. They require you to enter your mouse DPI and in-game sensitivity settings, and then they calculate your API.
Valorant eDPI Calculator
Valorant is a tactical first-person shooter game that requires precise aiming and quick reactions. Having the right eDPI can help players achieve better accuracy and consistency in their gameplay. However, the eDPI calculator for Valorant allows players to input their mouse DPI and in-game sensitivity and then calculates their eDPI.
EDPI Calculator: Advantages
Using the EDPI Calculator has several advantages and facilitates the audience in one way or another. Some of these benefits are;
Step-by-Step Procedure to Use EDPI Calculator
Using EDPI Calculator is easy and requires only two values: mouse DPI and in-game sensitivity. Here is a step-by-step guide on how to use EDPI Calculator effectively:
Factors Affecting EDPI
Several factors can affect a gamer's EDPI, including:
General Tips and Guide
Only some people are experts in using the Roblox dpi calculator. So one must be aware of essential guides and tips to make his experience even more enchanting. Here are some of the information on using the EDPI Calculator:
EDPI Importance
EDPI is crucial for gamers as it affects their aim and accuracy in the game. Most of the applicability importance falls in the section of gamers to meet their gaming needs. Here are some of the reasons why EDPI is essential:
Having the right EDPI can help improve a gamer's aim and accuracy in the game. A higher EDPI value allows the player to make more precise and small movements with their mouse, making it easier to aim at targets and make adjustments. Conversely, a lower EDPI value can be better for making more significant and sweeping movements, which can be helpful in games requiring more action, such as first-person shooter games.
Maintaining a consistent EDPI can help gamers maintain consistency in their gameplay. This is because the same physical movement of the mouse will always result in the same amount of activity on the screen.
This consistency can help with muscle memory, allowing the player to become more familiar with their sensitivity settings and make more accurate movements in the game.
The wrong EDPI can cause discomfort or injury, such as wrist pain or carpal tunnel syndrome. If the sensitivity is too high, the player may have to make excessive and repetitive movements with their mouse, which can strain their wrist and hand.
Conversely, if the sensitivity is too low, the player may have to move their mouse over more considerable distances, which can cause fatigue and strain on their arm and shoulder muscles. Finding the optimal EDPI for an individual's comfort and playstyle can help prevent these issues and promote healthy gaming habits.
FAQs
Q: What is the optimal eDPI for gaming?
The optimal eDPI for gaming varies from player to player and depends on personal preference, playstyle, and gaming setup. Some players prefer a high eDPI for quick movements and fast reactions, while others prefer a low eDPI for more precise aiming.
Q: Can I use the same API for different games?
Some players can use the same API across different games, but it is not recommended as other games have different mechanics and require different levels of precision. It is best to find the optimal eDPI for each game separately.
Q: How do I change my API?
You must adjust your mouse DPI or in-game sensitivity to change your API. Changing your mouse DPI will affect your eDPI while changing your in-game sensitivity will also affect your eDPI. Making minor adjustments and testing your new eDPI before making further changes is recommended.
Final Statement
Using an eDPI calculator, overall, can significantly enhance a player's gaming experience by helping them find the sensitivity settings that work best for their playstyle and improve their performance in-game.